Older news:
It's out.

Posted on 02.08.2021 at 11:34 (GMT +1) by blurry99
Dream Edition is out. Download today!


The DreamProject Team's first anniversary! Updates on Revision 3.
PPosted on 27.07.2021 at 22:10 (GMT +1) by blurry99
Writing this article few days earlier since on 28th of July, I'm going onto a family trip and I won't be home on 31st.
It's 2021, the first year of "The DreamProject Team" lead by blurry99 (officialandriey), and I'm extremely happy that we came so far. I can announce that the whole idea, was a success for me and the retro tech community. I've seen many people showing us photos or screenshots of Windows 98 Dream Edition, either on virtual machines or actual PCs! I'm giving you huge thanks for supporting us!
Dream Edition Revision 2 development resumed and (probably nearly done for release)
Posted on 07.05.2021 at 13:20 (GMT +1) by officialandriey
So after, well a flat month gap from development I've finally gathered myself and started to improve Revision 2 (now named Revision 02 after well, Zero Two, don't judge me ok?). So when I paused the development I already had integrated KernelEx which kinda stands on a question mark (it might not work as correctly as it should but you get the point). Yesterday (in Poland) I've implemented 3 modded VXDs which are PatchMEM modded, so in theory, Windows 98 Dream Edition should have up to 3GB of RAM support. Also added 3 new wallpapers from the "Wallpaper Contest" that was ongoing on the Razorback (those will be organized from time to time). If you submitted your wallpaper and it's not integrated please contact me over here.
I've sent Build 40 for testing to some selected beta testers.
Any release date yet? Hoping for somewhere at end of May.
Thank you for your patience and see you in your dreams!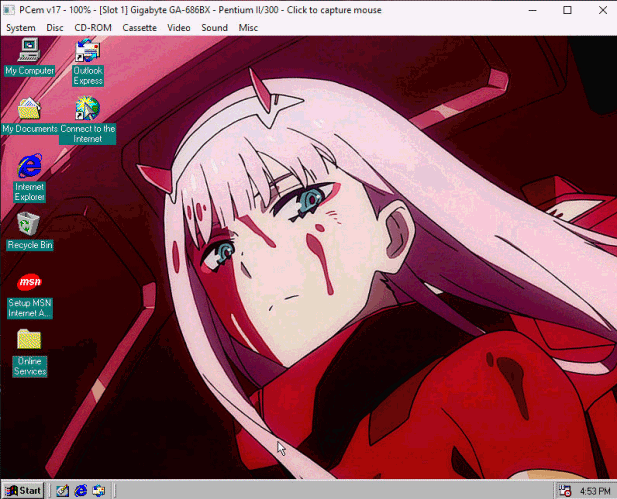 first screenshot of a successful boot of Revision 02 (06.05.2021)
DreamProject Legacy is up!
Posted on 25.04.2021 at 13:37 (GMT +1) by officialandriey
I've finally opened a version of the DreamProject website compatible with many old browsers (Internet Explorer 3+) instead of minimum Pale Moon for the Neocities version. This allows me for a lot of freedom in terms of file hosting and bounderies of space. Also you can go basicly on anything and have this true experience of a website on your CRT!
Will the Neocities version will be closed? NO.
The Neocities version will be still avaliable to you to view but it will be just updated later than the "dreamproject98.com" domain
That's all for now folks, see you on your dream CRTs...
Introducing, daily blips
Posted on 13.04.2021 at 11:04 (GMT +1) by OfficialAndriey
Quick news today! I've added a thing called "daily blips". It's kinda inspired by Kugee's blips with some message. Here, blips will mostly have some life quotes (from my life, movies, games etc.). Check the frontpage or my Discord status for a new blip, updated every 12:00am (GMT +1).
Dream Edition Revision 2 - Important message
Posted on 4.04.2021 at 01:00 (GMT +1) by OfficialAndriey
Receiving message...

Hello dreamers! Hope your experience with Windows 98 Dream Edition - Revision 1 has been great so far!

I'm sending this important message with kinda sad news, that development is paused due to my rough situation in school (not bad grades), it's just the teachers who want make us nonstop studying robots doing test after a test, nearly each day. After those hard months, I'm simply exhausted and wanting some freedom... I've been hanging around with my Polish friends just to break myself from those bad strains of new school I'm attending and sometimes, I can't do anything since I'm that tired.

Give me some time to bring my health back to a great state. All of this pandemic, school, lockdowns, quarantine drive me insane. I really gotta bring my lifestyle back to where it was back in 2019.

Thank you all for understanding, and I fairly apologize for lack of any message regarding development of 98DE...

Meantime, see you in your dreamscapes, Project Cisco, and for the future... possibly in Project Hitoshi... (no, it's not a Holdover thing, yet)


officialandriey ~ operator and lead developer of DreamProject

End of message...
It's the day... your dreams are finally unleashed...
Posted on 31.01.2021 at 00:15 (GMT +1) by OfficialAndriey
The release of Microsoft Windows 98 Dream Edition - Revision 1 is finally out! Please keep in might that what you'll experience is work in progress and Revision 1 is a sketch for what 98DE will have to offer. Keep that as kind of a beta/alpha test rather than a full release as of now. There is no full list of functions and software I want to include, more of those to come of course. For now the most important thing is feedback about ideas, reports etc. (send them to Razorback Discord server). Some of the common issues are well known by us and are documented (and if not, blame me, Andriey lol). Anyways, grab your cup of iced tea, sit back, relax and dream while using Windows 98 Dream Edition by DreamProject...
Microsoft Windows 98 Dream Edition is coming soon!
Posted on 29.01.2021 at 14:24 (GMT +1) by OfficialAndriey
And we're live on our official website! And Dream Edition is releasing soon. Roughly in 2 days, you're gonna experience your Windows 98 dreams. Currently DreamProject is at a final straight, with pre-release testing by:
- Kugee
- Ali
- ktg5
- LuxuryAerozona
- Tonko301
- VHSFan
- VintageWizard
and Trey Bowen!
Already, we got fixes for some fixed INFs (bugfixes by Kugee). Thank you for those discoveries! Anyway, I suppose were gonna do a 98DE Release Party on Razorback! Let me know on #general what do you think. Ok, let me get back to my classes. Oh, by the way, DreamProject will ditch Twitter. Thanks for the read